Winter 1996 (4.4)
Pages 74-75


Most people associate LUKoil exclusively with the development of oil prospects. It's true that LUKoil is a prominent member of three major international oil consortiums in Azerbaijan: (1) AIOC or Azerbaijan International Operating Company, which is developing the Azeri, Chirag and deep-water Gunashli fields; (2) CIPCO or Caspian International Petroleum Company, which is developing the Karabakh prospect; and (3) the British-led project to develop Shah Deniz. But LUKoil's presence in Azerbaijan has many more dimensions, including the development of Azerbaijan's infrastructure in telecommunications, transportation, insurance and maintenance.
LUKoil's Sister Companies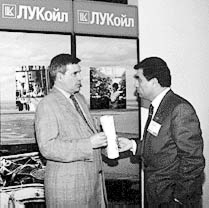 LUKoil-Baku was formed to established economic relations between Baku and Russia. One of its projects is the development of a network of modern gas stations, the first of which opened in Baku in October 1995. The new station can serve 2,000 cars a day-10 at a time-and offers a car wash, repair shop, spare parts store, cafe bar and mini-market selling Russian food products. It also conforms to international ecological norms. The gasoline sold there comes from Baku refineries, so sales benefit both SOCAR and LUKoil. Two more stations are scheduled to open by the end of 1996.
LUKoil-Trans was established to arrange for the transportation of goods to Azerbaijan and throughout the Caucasus. One of their first projects is for AIOC and involves the delivery of 50,000 tons of Japanese pipes from Beyuk-Kasik (a border point between Georgia and Azerbaijan) and Baku.
Above: LUKoil's President Vahid Alakbarov meets with SOCAR's President Natig Aliyev.
Below: Fikrat Aliyev, General Director of LUKoil in Baku.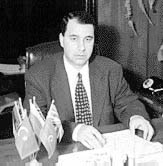 AzEuroTel, a joint venture between LUKoil, the Ministry of Communication of Azerbaijan, and the British company GPT International, was established in 1995. Azerbaijan, like the rest of the former Soviet Republics, had obsolete and worn-out telecommunications systems. This joint venture has totally refurbished the station serving the 92 and 97 prefixes-increasing the number of lines available from 10,000 to 20,000 numbers. A new satellite terminal now enables users of this station to dial international numbers directly, instead of going through an operator.
Most recently, LUKoil has formed a repair company for floating platforms and supply ships, as well as an insurance company. LUKoil is in the process of refurbishing the "Goy-Gol" hotel, the oldest hotel in Baku, to provide office space for all of these new "sister" enterprises.
Humanitarian Efforts
LUKoil and AGIP have jointly funded some very significant health initiatives in Azerbaijan during the past two years. In April 1995, they donated six tons of medicine worth $300,000. In October 1995, LUKoil rendered $9,000 worth of financial aid to the families of victims who died in the tragic Metro fire. And in December 1995, LUKoil and AGIP combined resources to fund an expensive bone marrow transplant in Italy for six-year-old Rashid Suleymanov. This spring, the same surgery is scheduled for four-year-old Nargiz Hasanova who has thalassemia (See "The Thalassemic Child: A Mother's Dilemma" by Aida Hasanova in AI 3.4 (Winter 1995).
Cultural Endeavors
LUKoil has sponsored many cultural projects, including musical performances in Baku and a concert tour of young Azerbaijani drummers, called "Jujalarim," in Turkey. In addition, they've been involved with the refurbishment of the Russian Drama Theater and the Center of Russian Culture.
LUKoil has also funded intellectual endeavors, such as the 2nd International Festival of "Brain-Ring" competitions in August 1996, which gave some of Azerbaijan's brightest high school students a chance to compete on an international level.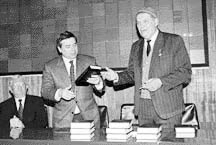 Photo: Vice President of Azerbaijan's Academy of Sciences and Orientalist, Ziya Bunyatov, expresses his appreciation to LUKoil's President, Vahid Alekberov (middle), for the publication of his translation of a medieval manuscript which is of vital historical importance to Azerbaijan. (Left) Eldar Salayev, President of Azerbaijan's Academy of Sciences.
One of LUKoil's most significant intellectual pursuits this year has been the publishing of a translation of an ancient Arabic manuscript about Jalal ad-Din Mankburna-who was the last Sultan of the Dynasty of Anushtegenids. It was penned by his private secretary, Shihab ad-Din Muhammad ibn Ahmad an-Nasavi in the Middle Ages, and translated by Ziya Bunyatov eight years ago. Bunyatov, an Orientalist and decorated hero of World War II, is now one of the Vice Presidents of the Academy of Sciences.
LUKoil's plans for 1997 include the repair and refurbishment of Secondary School #1, which will celebrate its 100th anniversary next year.
Fikret Aliyev, LUKoil's General Director in Baku, said, "LUKoil is coming to Azerbaijan in the spirit of good will. We are just getting started in Azerbaijan, both in the development of oil and gas fields, and in establishing cultural, commercial and research relationships." Fikret Amirov, as well as Vahid Alekberov, LUKoil's President, are both Azerbaijanis.

From Azerbaijan International (4.4) Winter 1996.
© Azerbaijan International 1997. All rights reserved.
AI Home Page | Magazine Choice | Topics | Store | Contact us