Winter 1995 (3.4)
Page 26

From SOCAR's Perspective
by Natig Aliyev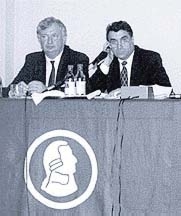 September 20, 1994, was a turning point in regard to the development of oil and gas in Azerbaijan when we signed the contract with the Consortium of 11 foreign oil companies for the development of Chirag, Azeri, and deep water Gunashli. The contract was significant not only for the development of these fields but for the infrastructure that will be built up around the oil and gas industry here.

Left: Terry Adams, President of AIOC (left), with Natig Aliyev, President of SOCAR (right), at the Adams Smith Economic Conference in London, late November 95.

November 10, 1995, was the second most important event when we signed the development of the Karabakh field with LUKoil, Pennzoil and Agip (Italy). Conservative assessments put its reserves at 85 million tons, but optimistic forecasts suggest more like 150 million.
Azerbaijan already has great potential for technical and industrial development. Besides we have a highly trained and educated labor force. The productive capacity that we inherited from the past requires total restructuring and renovation. That's why we're looking for our specialists to be able work with the new technologies and new systems on the basis of Western standards, not the domestic standards of the past.

Onshore
Azerbaijan has 87,000 km2 of territory; half of which is somehow related to oil. Some of our onshore fields have been exploited for more than 100 years and, somewhat exhausted, are in their late stages of operation. Yet geologists say that our onshore fields still contain about 178 million tons of oil which, in principle, is quite a large amount. It means that working on onshore fields in Azerbaijan can still be sufficiently worthwhile.

We've been very spoiled in that, generally, our geological structures have been very simple and, consequently, exploitation has also been quite simple. But now we have discovered older and deeper deposits in which no exploitation has taken place. We believe we will discover some very unique large deposits, possibly Mesozoic oil. Although there have not been specific large discoveries, an inflow of large amounts of oil and gas have been discovered in certain wells.

Offshore
Today, there is tremendous activity offshore. Gunashli, alone, provides more than 60% of our production in Azerbaijan. The Azerbaijan sector is one of the most studied areas of the Caspian today. In the Azerbaijan sector of the sea alone, the extractable reserves of oil and gas are equivalent to all Western Europe's reserves including the North Sea.

Azerbaijan has sufficient reserves to be turned into an oil-exporting country in the very near future. If you consider our gas and oil reserves per capita, Azerbaijan has the potential to be among the five wealthiest countries in the world. Though it may sound strange, that's really the case. Our population is just slightly over 7 million but these huge reserves provide great potential for international export.

The companies which are already working with us now and the companies which plan to join us in Azerbaijan tomorrow, I think, are not making a mistake. All experts agree that these projects can be profitable, advantageous, and feasible.


Natig Aliyev is President of SOCAR.


From Azerbaijan International (3.4) Winter 1995.
© Azerbaijan International 1995. All rights reserved.
Back to Index AI 3.4 (Winter 1995)
AI Home | Magazine Choice | Topics | Store | Contact us