Winter 1995 (3.4)
Pages 70-71
Naftalan
The Oil that Heals
by Dr. D. Y. Huseinov and Dr. A. I. Rustamov

Another article related to Naftalan:
Naftalan - The Miracle Oil, Azerbaijan's Therapeutic Oil by Eldar Abbasov (AI 10.2, Summer 2002)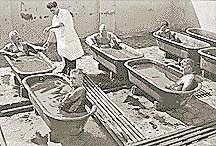 The Naftalan Therapeutic Complex in central Azerbaijan. Much of the dormitory space currently houses refugees from the war with Armenians. Naftalan (oil) is still very famous for its therapeutic abilities.

Not all oil exploited onshore and offshore in Azerbaijan is used as petro-chemical fuel and energy supplies. There's another extraordinary form, called "Naftalan", famous for its unique ability to heal, both internally and externally. It's been known for centuries, possibly longer. Even Marco Polo wrote about it.

The origin of the word, "Naftalan", can be traced to the Greek word, "naphtha" pertaining to oil and the Azerbaijani suffix, "-alan" which comes from the verb "to take". Naftalan is used as an extremely effective oil treatment.

One of the most popular therapeutic centers in Azerbaijan has been organized at the natural source of this oil and goes by the same name, Naftalan. It is located in the Goranboy District of in the center of the country near the Caucasus mountains. Today, many refugees have settled temporarily in the dormitories there, hoping that the war will soon be over, that Azerbaijan will get back the 20 percent of territory now being occupied by Armenians, and that they will soon get to return to their own homes, towns and villages.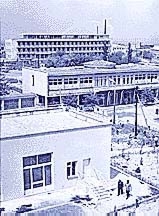 Left: Medical treatment with the unique naftalan oil at the Naftalan Sanatoria. 1958. Courtesy: National Photo Archives.
The history of the discovery of the oil, "Naftalan" is very ancient and, indeed, quite uncertain. Archeological findings in the region include gold and silver coins as well as written documents from the 12th century describing how the oil was used medically. The medical significance of Naftalan was known not only among the local population but by people who came for treatment from many countries, including China, India, Afghanistan, Iran, Turkey, and Central Asia. The oil was also marketed by caravans to Near Eastern Countries.

In modern times, Naftalan has been exploited since the 1870s. The first person to carry out research about the medical properties of Naftalan was a German chemist and engineer named Yeguer. With permission of the Russian czarist government, he developed an ointment from Naftalan in 1892 and sold it in markets as an effective medicine. In 1912, Kuel from Germany founded a joint-stock company called, "Naftalan" and set up companies in Magdeburg and Dresden which prepared ointments, pastes, liniments and creams from Naftalan and exported them to various countries including Russia.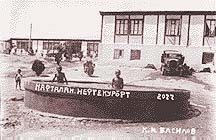 Left: The Naftalan Therapeutic Center in 1936. The oil has been known for its therapeutic abilities for centuries, possible millennia. Marco Polo wrote about it in his travels from Venice to the East in the 13th century.
During the Russo-Japanese war (1904 -05), Japanese and German soldiers carried jars with Naftalan ointment to heal their wounds. During World War II, Naftalan preparations were sent to numerous hospitals.

Azerbaijan's Academy of Sciences, the Medical University, and Resortology Institute have set up special laboratories to continue their research into how Naftalan can be used more effectively.
Chemical Analysis
According to both its physical and chemical analysis, Naftalan, is different from other kinds of oil. The density of purified Naftalan ranges between 0.925 to 0.960 (gram / per cubic centimeter). Naftalan boils between 200 to 250°C and freezes at -20 to -30°C. It contains 50-55% naften hydrocarbons, 30-35% aromatic hydrocarbons and 14-16% resinous substance. Its main ingredients are sulfur and nitrogen but it also contains a wide variety of micro-elements as well.

Application
Naftalan is used against inflammation, as an anesthetic, and disinfectant. As it penetrates the skin, Naftalan accelerates the process of metabolism, thereby strengthening cell regeneration.
Purified Naftalan and its preparations are used in bone and joint diseases such as rheumatism and gout. It is effective when applied to skin conditions such as eczema and dermatitis, and burns. It has been applied effectively to gynecological diseases relating to the vagina, uterine wall and uterine tube.

At the Therapeutic Center which has been developed in the town of Naftalan, there are oil baths, or it can be applied to the skin and joints, or inserted as a tampon for uterine treatment.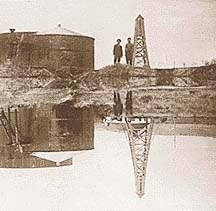 Left: The source of Naftalan (oil) which is used to treat a wide number of medical ailments and diseases. Centuries ago, it was known far and wide for its curative abilities and sold by caravans traveling between the Middle East, India and China.

Azerbaijani Scientists
Azerbaijani scientist, Yusif Mammadaliyev was the first to identify that the main active ingredients in Naftalan is polycyclic naften hydrocarbons. Academician Ali Guliyev defined its biological specificities and effects on the organism. The combination of these two bodies of research led to the technology of separating naften hydrocarbons.

Biologist Ahad Hasanov developed a preparation, called Kerato-Naftalan, for ingestion that treated stomach and intestinal diseases. Patients got good results from taking 3-4 teaspoons of Naftalan daily. Resortologist Shukur Hasanov was involved in Naftalan Therapy for a long period of time and wrote a monograph entitled, "Treatment with Naftalan". The Naftalan Laboratory at the Resortology Institute headed by Samaya Guliyeva is involved in the profound study of Naftalan.

During World War II (Great Patriotic War), Israfil Damirov developed a research production laboratory for Naftalan preparations which utilized the anti-microbial, anesthetic, and healing preparation for skin treatment, burns and injuries and use of preparations to treat eczema, arthritis, and neuralgia, neuritis (inflammation of nerves), neuralgia, and bone and joint diseases and skin diseases against fungi and parasites.

Naftalan as a potential resource contributing to world health has yet to be seriously understood or marketed.

D. Y. Huseinov and Dr. A. I. Rustamov work with the Azerbaijan Medical University. Dr. Huseinov is a Medical Doctor and Professor there. Doctor of Pharmacy, Asef Rustamov, is Professor Emeritus but still very active in his pursuit of documenting the History of Medicine in Azerbaijan.


From Azerbaijan International (3.4) Winter 1995.
© Azerbaijan International 1995. All rights reserved.
Back to Index AI 3.4 (Winter 1995)
AI Home | Magazine Choice | Topics | Store | Contact us