Winter 1994 (2.4)
Page 66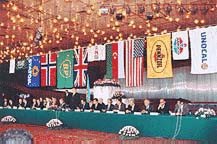 SOCAR and Foreign Oil Companies sign the "Contract of the Century"
for the Offshore Fields of Azeri, Chirag and Guneshli
September 1994

Chronology of AIOC Oil Contract
Under President Mutalibov
May 1989
Steve Remp of Ramco Energy makes first visit to Soviet Azerbaijan as first Western Oil Company representative to visit country for many decades.
Aug 1990
Ramco agrees to find investment partners for Azerbaijan's offshore oil company (Kaspmorneftegas)
June 1991
Amoco selected to operate Azeri field.
Sept 1991
Amoco signs Area of Mutual Interest (AMI) with BP / Statoil / Ramco, Unocal and McDermott to work jointly on Azeri field project.
Feb 1992
Pennzoil and Ramco begin negotiations for Guneshli.
Under President Elchibey
Nov 9, 1992
Five Memoranda of Understanding are signed by SOCAR and Foreign Oil Companies (FOCs). Working groups are established to study and plan development and coordination of joint infrastructure (export pipeline, offshore pipeline, on-shore processing facilities, offshore marine fleet and onshore supply base for Chirag, Gunashli, and Azeri fields.
June 1993
SOCAR announces Declaration of Utilization which consolidates Guneshli, Chirag and Azeri fields. FOCs agree--Amoco, BP, Statoil, Pennzoil, McDermott, Ramco, Turkish Petroleum and Unocal.

Under President Aliyev
June 14, 1993 - Heydar Aliyev takes leadership position.
June 21, 1993
Preliminary signature bonus of $81M made to SOCAR by FOCs.
June 25, 1993
Negotiations frozen.
Aug 1993
New Government and SOCAR select new negotiating team headed by Dr. Manafov (CODA) to negotiate new terms with FOCs.
Oct 3, 1993 - Heydar Aliyev elected President
Oct 1993
Gunashli field removed from discussions. Lukoil gains part of SOCAR's share.
Dec 93
Government renounces CODA negotiations and dismisses negotiators.
Feb 4, 1994
President Aliyev signs Presidential Decree assigning negotiations to SOCAR.
March-Sept
1994
Four major negotiating sessions take place with the FOCs in Baku, Istanbul (twice) and Houston.
Deep-water portion of Guneshli reintroduced into Contract as a means to generate rapid return on investment.
Delta-Nimir enters Consortium after buying 15% of Unocal's share.
Sept 20, 1994
Oil Contract signed by FOCs and heads of six countries sign contract-US, UK, Norway, Saudi Arabia, Turkey and Russia-for Azeri, Chirag and Guneshli Fields. Contract covers all legal, technical and commercial aspects including production sharing, taxation and project management. Investment of $7.14B to be made over span of 30 years. Boards of FOCs sign Contract.
Oct 1, 1994
Unsuccessful coup against Aliyev.
November 15, 1994
Contract ratified by Azerbaijan's Parliament.

From Azerbaijan International (2.4) Winter 1994.
© Azerbaijan International 1994. All rights reserved.
Back to Index AI 2.4 (Winter 1994)
AI Home Page | Magazine Choice | Topics | Store | Contact us