Winter 1994 (2.4)
Pages 36-38
Legacy of the Oil Barons
Part III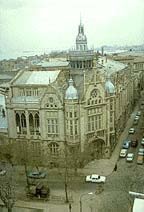 by Fuad Akhundov
The impact of the Oil Boom at the turn of the century left an indelible imprint upon the architecture of Old Baku. In a series of articles, Fuad Akhundov, describes some of these great monuments and the benefactors who built them. Much of his information has been gathered in interviews conducted with some of the remaining descendants of that era.

All historical photos are courtesy of Azerbaijan State Archives (Photo and Cinema Documents Section) in Baku. Contemporary photos by Oleg Litvin, 1994.
Murtuza Mukhtarov (1855-1920)
If the five most prominent businessmen and vivid personalities in old Baku were to be identified, Murtuza Mukhtarov, undoubtedly, would be one of them. Despite being born into a poor family and not having access to formal education, he managed to become a highly-qualified, self-taught engineer and one of the best boring specialists in Baku. His enormous experience and shrewdness propelled him into his own business in 1890 when he founded what became a substantially sized oil company with two divisions, employing 2,500 workers, and which manufactured machinery for derricks and bored new oil wells.

As a prosperous businessman, he became known as the benefactor and builder of two stately mosques. He built the first in 1907-1908 in Amirjan, a suburb of Baku, where he was born and grew up. To this day, the minarets with their double balconies and decorations are very distinct as they rise 46 meters high. The workmanship in stone carving far exceeds that of any other mosque in Baku, the surrounding suburban areas or, for that matter, in the entire country. Many mosques were destroyed during the Soviet Period or were converted to other uses such as museums, but the Amirjan Mosque still stands today and is used as a place of worship.

The other mosque that Mukhtarov built was not in Azerbaijan but in Vladikavkaz, a town in southern Russia. While visiting that region, the story goes that he fell in love with an Ossetian noble lady, Liza-Khanum Taganova. But when Mukhtarov proposed, her parents refused. It didn't matter that he was extremely rich. To them he had not been born into nobility and did not come up to their social standing. In order to prove his honorable intentions, he undertook to build a magnificent mosque on the bank of Terek River. Of course, afterwards, it was impossible for the Taganovs to refuse him.

When Liza-Khanum Taganova moved to Baku, she charmed the city with her aristocracy, refinement and philanthropy. It's to her credit that Mukhtarov soon was able to speak English and French. One would hardly have guessed that he had been born of a poor family.

French Gothic Palace As Model
The Mukhtarovs were impassioned travelers and toured throughout Europe. Once Liza-Khanum expressed her pleasure with one of the French Gothic palaces she had visited, never suspecting that her husband would use it as a model to design a residence for her. The plans were obtained, a few modifications made by the famous architect I. K. Plosko, and the palace was constructed in Baku in 1911-1912.

For Liza-Khanum, it was a "fairy tale" come true. But a great tragedy took place while the palace was being constructed. One of the contractors, Imran Gasimov, a good builder, amateur actor and aristocrat, one evening while erecting the statue of a medieval figure on the roof, accidentally slipped and fell to his death. The city was horrified and deeply saddened. A week later another tragedy took place when his wife, Rubabe-Khanum, committed suicide. Having no children, the couple had devoted all their attention to each other and after Imran's tragic death, Rubaba-Khanom, who was very European in outlook realized that either she would have to leave Baku or start wearing the chador, like other Moslem women did at that time. Being unable to leave, and unwilling to wear the chador, she chose suicide-so the story goes. Even today, the statue crowning the palace still stands bearing witness to these two sad events. (See photo).

An Orphanage Inside the Palace
Nor did the Mukhtarovs have any children but Liza-Khanum, known for her philanthropy, arranged a boarding school for poor and orphan girls inside the palace. In 1914, the Mukhtarovs' Palace became the residence of the first Female Moslem Philanthropic Society founded by Liza-Khanum. Together with her husband, she financially supported many of these girls so they could continue their education in Moscow and St. Petersburg. She was also an active member of the Society to Combat Mortality among Children.

As for Mukhtarov himself, he was famous not only for his philanthropy and technical abilities but also for his intolerance to revolutionaries especially Joseph Stalin who had to hide from him at the beginning of his revolutionary activities in Baku. Subsequent history proved that Murtuza Mukhtarov was right in his assessment of Stalin.

Desecration of the Palace and Mukhtarov's Death
But times were becoming turbulent and Mukhtarov's stand against the revolutionaries led to his inevitable tragic death. Shortly before the Red Army entered Baku in April 1920, Mukhtarov resisted them declaring, "As long as I'm alive, no barbarian will enter my house in soldier boots." But the Red Army soldiers did enter his palace and not only were they wearing soldiers' boots, but they rode horseback through the great halls of his mansion. When Mukhtarov saw them, he fired first and afterwards turned the gun on himself.

Liza-Khanum was forced to live in the basement of this very same palace which had been built for her. Deprived of everything she owned, she managed to escape with a diplomat to Istanbul only to be robbed by him. She lived until the mid-1950s.

Two beautiful, though tragic, stories of love are woven into the history of this magnificent palace of the Mukhtarovs. During the Soviet period, the Residence took on a new life and character of its own, somehow reminiscent of its past, when it was converted into Baku's Wedding Palace. To this day, it continues to serve that purpose and couples come to register their vows and make public their commitment of loyalty to one another in this majestic architectural landmark.

Fuad Akhundov is an architectural historian enthusiast in Baku.

From Azerbaijan International (2.4) Winter 1994.
© Azerbaijan International 1994. All rights reserved.
Back to Index AI 2.4 (Winter 1994)
AI Home Page | Magazine Choice | Topics | Store | Contact us